Tia Ross was recently featured among Women Making History in honor of Women's History month. In this insightful interview with Jeanette Hill, the discussion focuses on her work with and future plans for Black Writers Reunion & Conference, Black Writers Alliance, and other Black writers events.
---
You created the Black Writer's Reunion Conference (BWRC), the most successful writer's conference for African American writers and authors. Tell us how you came up with the concept and how you implemented it so successfully?
Memphis Vaughan Jr. of TimBookTu.com and I first toyed around with the idea of a writer's conference for our online communities in the late 90s. I'd just formed the first 501c3 literary arts association to organize online for Black writers and he was featuring up-and-coming authors on his site (and still is, 17 years later). I thought it was too soon to launch the event. A year later, members of my organization wanted a meet-up, and Charene Thornton, one of the members, began coordinating the event in Atlanta. I felt that if we were going to dedicate valuable time and resources to it, then we needed to also incorporate education, book promotions, contests, and other key conference components.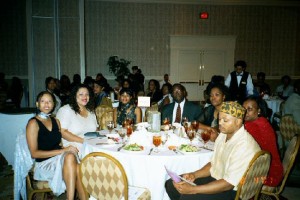 We were already this big, very close-knit family of writers by that time, so I gave it the name "Reunion & Conference" to acknowledge the family gathering as an equally important component of the event. Its success was borne from the fact that it was, and continued to be, a collective family effort in support of the vision I shared with them and our mission to build further upon the nurturing community we all cherished.
You are a master at networking and negotiating, both valued skills. When working on a project with so many variable components, how do you determine which people will be a fit?
It's become kind of intuitive for me now, but I learned to look at people's track records. Their brands speak volumes. What have they been doing to support fellow writers to date? Are they already contributing members of our community, networks or extended networks? What do they expect in return for their contribution? How supportive are they of fellow writers or are they in it simply for self-gratification? How have they treated people who've come to them for help? The answers tell the tale and make it easy to identify those whose motives mesh with the organization's goals and mission and to weed out those whose don't. Someone who strictly wants to make money off of us will not fit in.
Bringing writers together brings with it the inherent possibilities of egos going viral. How did you manage to keep this to a minimum while cultivating a spirit of camaraderie?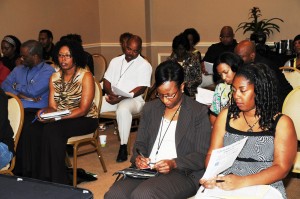 I simply don't cater to egos. I treat everyone as equals, and I extend to new speakers and workshop facilitators the same respect and gratitude that I extend to those who've been with us since the very beginning. I've never bought into the belief that we need so-called "big name/V.I.P." authors for our events to be successful. Writers do not attend our events to meet anyone who is only there because they were paid to be and otherwise has no interest in them or their writing dreams and goals. People come to Black Writers Events' conferences, retreats, and workshops to learn, to be inspired to take their talents for writing seriously, to be enlightened on how to nurture and develop those gifts and be profitable, to find and build support systems, and to be empowered on the spot by those who have the knowledge and are present because they want to give back and serve as teachers and leaders within an organization that supports them in return. These are the true VIPs to me . . . without any airs. When there is a noticeable, distinct lack of pretense and arrogance at our gatherings, camaraderie and fellowship naturally ensue.
What do you believe the BWRC conference accomplished and what do you see as the next level movement?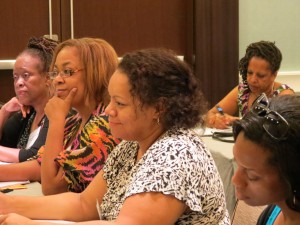 BWRC was all-encompassing of the best of what one hopes to find when s/he attends a writers' conference. Tananarive Due said it best when she said BWRC offered "the kind of organization and nurturing available to African-American writers that has been available to white writers for years." For some reason Black writers had lowered standards when it came to events by us and for us, as if we expected schedules to run late, equipment to be broken, conference materials and handouts to be poorly put together, meager menu offerings of primarily high-cholesterol, high-calorie finger foods, and for our events to be hosted at 1- or 2-star venues where the bill hadn't been paid before we arrived. BWRC changed the game by making top-notch event production at world-class hotels and resorts the new standard without gouging attendees' pockets. The next level can only dictate that Black writers and readers demand the highest standards across the board for all events we patronize. One of my favorite quotes: "The minute you settle for less than you deserve, you get even less than you settled for." I apply this to everything in life, and specifically with regard to black writers conferences I'd add another favorite: "Never settle for less…even if you have to wait a while."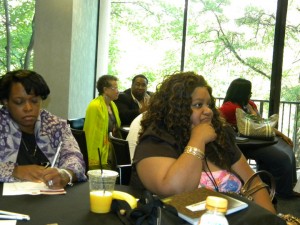 What do you mean by "wait a while"? Is there something else over the horizon for BWRC?
One of the main reasons I stepped down from BWRC was due to the workload. Finding venues and producing outstanding conferences requires significant amounts of time and energy, and when you're raising two sons, working a day job plus moonlighting as a freelance editor and web designer, and trying to effectuate new career and business endeavors through a degree plan course of study, something has to give. I was overwhelmed, so I stepped back from the conference. The late, beloved Gwynne Forster praised the conferences since the beginning, continually encouraging me to keep supporting emerging black writers no matter what and, as I fully expected, I dearly miss the camaraderie of the Black Writers family. So, I am working on creating new events that are less labor- and resource-intensive and require less capital to produce but are equally rewarding for all involved. I'm also relaunching Black Writers Alliance with plans to offer structured critique groups, literary support services and other membership benefits for published and professional writers, editors, publishers, to name a few, and those who aspire to be. The door is open with various opportunities for interested individuals to get involved on the "ground floor" posted at BlackWriters.org.